The Best MacBook Accessories of 2021!
There is no doubt that the MacBook is the most popular laptop in the current tech market. Its impressive quality mixed with it's sleek and classy designs has led to the laptop being considered one of the best laptop brands to own. This gives it a significant edge in comparison to Windows PCs. But while Apple's laptops tend to shine bright in the design department, they do tend to fall behind due to the lack of extra features. Fortunately, Lention has created countless accessories to help upgrade your Mac's overall functionality. From cases to laptop stands, our selection covers the main things that you need to get the most out of your new device, so take a look at our 7 best MacBook accessories of 2021 below!
With active noise cancellation, fitting tips, and overall better sound quality, it's obvious why these are some of the most popular accessories in the market right now. These earbuds are special as they come with a simple touch control design for comfort and ease-of-use. And in terms of sound range, they offer up to 10m long distance with 2X transmission speed. As such, you don't have to ever worry about audio glitches or sound lag. It also comes with the Hybrid ANC Noise Reduction with Environmental Noise Cancellation, which does well to block out any external interference. This means you can only expect the best of the best when it comes to sound quality. Additionally, they are water-resistant, offer wireless charging, and comes with an extended battery life of about 20hrs, so they are perfect for any form of outside activity.
When you place your laptop on a surface, you will normally have to look down to see the screen. Over time, this can cause aches pains and even long-term injuries. However, by using one of Lention's laptop angle stand, you can reduce the risk of that happening. For instance, if you are looking to save space on your workstation, then the MacBook LS1-Stand by Lention has a gorgeous design that's both sleek and modern. It allows you to cradle any laptop vertically in a protective and stable 'closed clamshell mode'. This helps clears space on your desktop, while also expanding your device's connectivity. You can also opt for the L1, L2, and L5 stand models, as they offer a rising structure that provides an adjustable angle and height for extra comfort while working. Alternatively, if you own a desktop instead of a laptop, then one of Lention's laptop desk risers are perfect. They offer a single hand design, sturdy steel frame, heavy durability, easy adjustment, and no need for assembly either!
One of the most important accessories that will prove extremely vital in your work is a usb c multi hub. These accessories offer raw functionality by expanding the number of connectivity ports that your laptop allows. This means you will now have access to a wide variety of commonly used inputs to charge devices or transfer data. In other words, owning one of these hubs will allow you to plug in numerous external accessories to your laptop at the same time. In this regard, most of the docking stations on offer by Lention, come with an SD Card Slot, USB-C ports, USB-A ports, and even a headphone jack for easy access. Some of the models on offer also come with a Gigabit Ethernet port and HDMI Displayports for external monitor access. Moreover, there is also a macbook pro standing dock available that comes with a removable stand. It allows you to set up your docking station for vertical or horizontal orientation on your desk. This makes it the perfect portable docking solution for both home, office, and travel use.
It is always important that you take extra care of your MacBook pro by protecting it from the risk of external damage. And one of the best ways to accomplish this is by utilizing a hard shell laptop case. When it comes to the laptop cases on offer by Lention, these feature a plastic hardshell case to protect your MacBook Pro from any scrapes and scratches. Moreover, they feature a smart heat dispersion system with two rows of bottom ventilation. This not only helps keep your MacBook cool but also promotes better airflow. Additionally, they also come with four anti-slip silicone rubber feet giving your laptop extra protection against sliding from any surfaces. Plus with a wide range of compatibility for even the 13- and 15-inch MacBook Pro variants, you can quite easily pick out a hard case that fits your laptop perfectly. On the other hand, if you some external protection for your laptop while on the move, you can always purchase a protective laptop sleeve. These easy-to-carry cases come with multiple pockets so you can keep your Mac and your accessories nicely packed. Plus, they come in different colors and materials such as neoprene and leather, which are designed to keep your laptop tightly packed and water-resistant when enclosed. So, if you are constantly carrying your MacBook on the move, then these accessories are the smart choice.
USB-C Cables and Organizers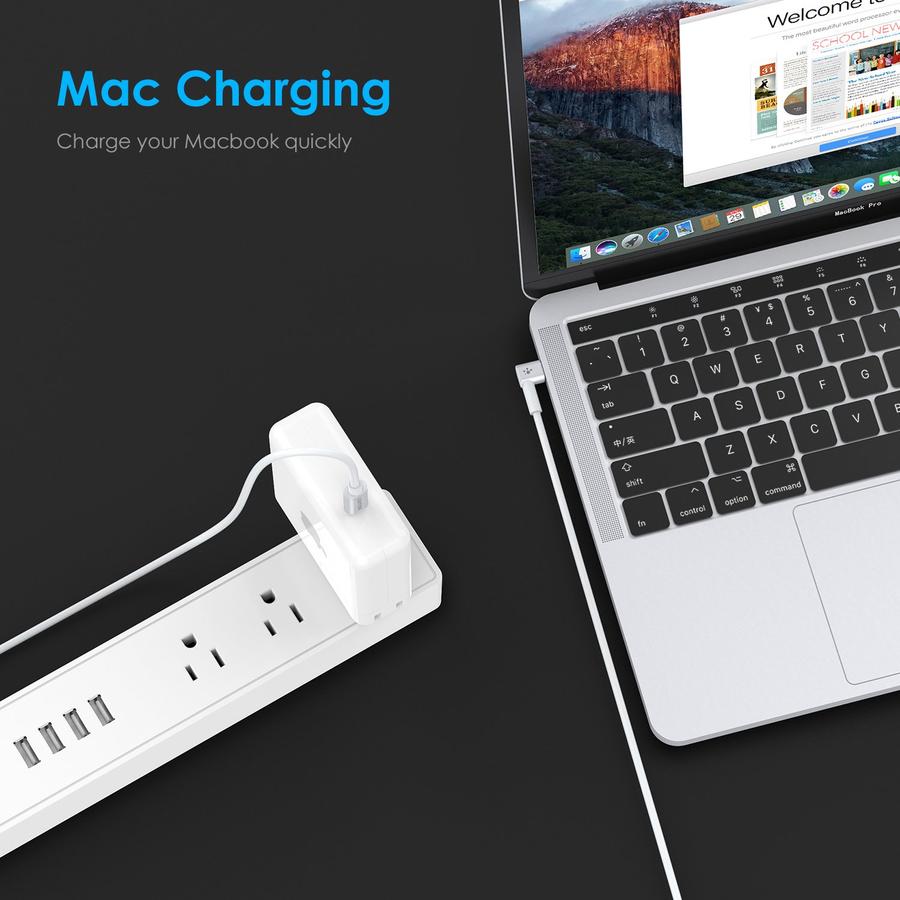 A simple but essential MacBook accessory is owning a USB-C cable that allows you to connect your other external devices and computers to your laptop. Some of these cables also offer USB-C to HDMI connectivity. So, if you ever want to connect your MacBook to a TV or an external monitor, then picking out one of Lention's cables is an absolute must-have. They are highly compatible with most USB-C enabled laptops, tablets, and phones. And they also support any external hard drives with USB-C ports, providing up to 480Mbps data transfer speed. Moreover, they are highly durable as they come made up of a unibody aluminum alloy and nylon braided cable to ensure a long lifespan and safe flexibility. As for the display port cables, these offer compatibility with screens up to a 4K resolution. And can simultaneously transmit audio and video signals. This means you can easily stream your favorite sports events, gaming, movies, and TV episodes from everywhere. Plus, some of these cables come can be extended up to 10ft for convenience. So if you need something with extra length, you are covered.
However, there is no doubt that these cables can be easy to lose sometimes, so we suggest that you order some cable organizers if you can. These accessories will allow you to be able to safely carry around multiple cables, microphones, chargers, external disk drives, or any other accessories. All in one convenient carry case, thus ensuring that you keep everything well-organized and protected from external damage.
These accessories are highly useful and necessary as you can apply one on your keyboard which should protect your Mac from scratches, dust and even water spills. Moreover, they offer excellent protection from screen glare, making them ideal for those who tend to spend long hours staring at the laptop screen while working. Another advantage of these skin protectors is that they are made up of a premium thin and light material that is easy to install. Plus, they also offer effective electrostatic absorption and heat dissipation.
Whether you have a bunch of kids running around your home or pets who like to chew on some of your open cables, there is no doubt having a spare wall charger can come in handy. And there is no better alternative to have ray than one of Lention's USB-C Chargers. The benefit of these is that they are very multi-functional, adaptable and safe for any device. This means that in case a power surge occurs, they are less likely to cause a problem that could damage your laptop. Additionally, you can choose to own a 18W or 29W wall charger which is suitable for charging any type of phone. Or you can opt for a 45-watt or 60-watt charger which is suitable for both phones and laptops. Moreover, they also come in a sleek and compact build for easy carrying, making them a convenient companion for both home and office use.
---