How to find the perfect USB-C HDMI hub?
Cloud storage has had an impact on the design of electronic devices, they are increasingly compact and free of wired connection ports. However, the need to connect devices that have a USB input, among others, can be supplied by a Hub connector. But what is the best Hub on the market?
Here we want to present you with the best USB C HDMI hub on the market. Those that allow us to connect our USB devices, memory cards, and more, in a single hardware point with the greatest speed and efficiency.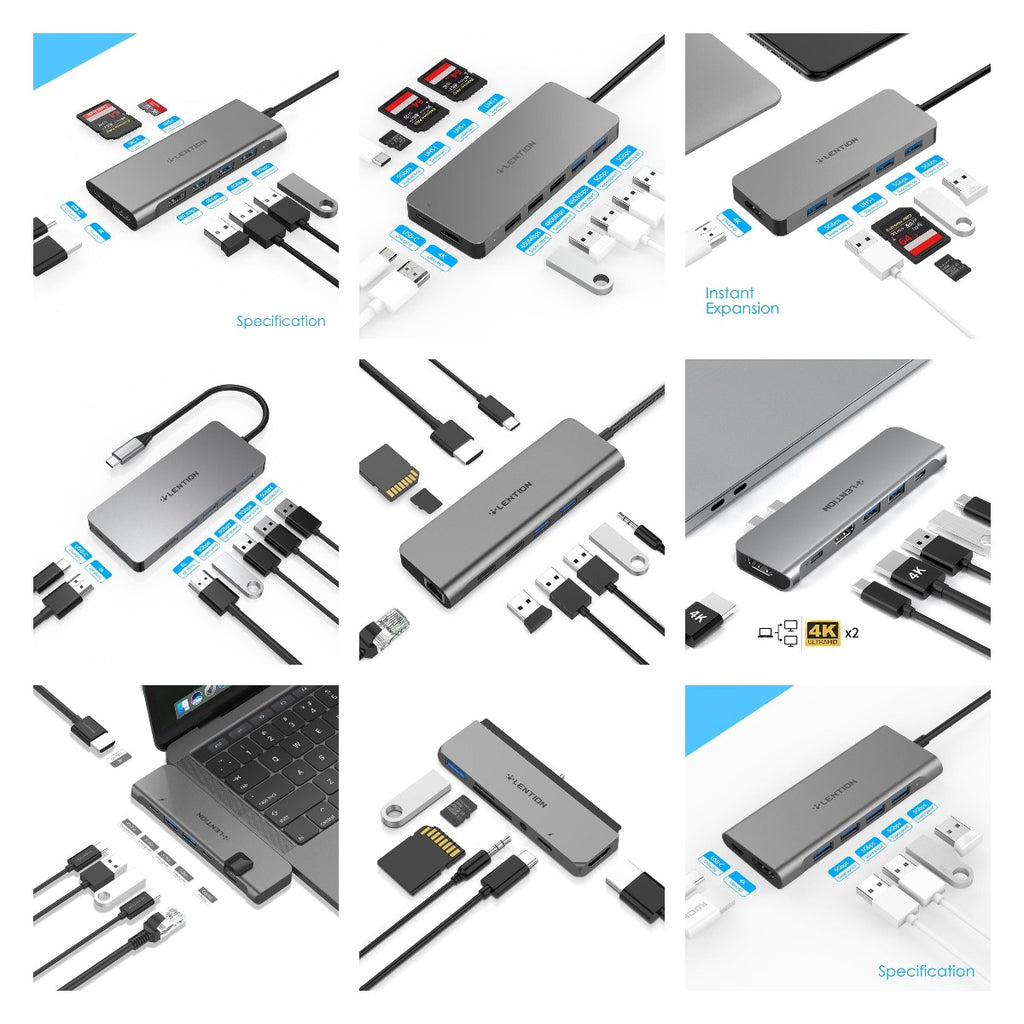 We give you more than just a review, we want to help you, and for that reason. We will show you the most marketed hubs, their characteristics, and recommendations, so you know which one is perfect for you. In addition, we will show you the factors that you can compare. Do not miss it!
How to find the perfect USB-C hub?
Although the recommended options are always those offered by the manufacturer itself, in this case, they are not the best. Apple has adapters and hubs in its physical and online Apple Stores, although they do not have the best value for money for their value and the number of ports they incorporate. In other stores and platforms such as Amazon, we can find many alternatives from other manufacturers that will better meet the needs of any user.
The perfect adapter or SD card hub is the one that fits the profile of each user. If we only need USB-A ports, the range of options is wider. However, if we want it to have Ethernet and SD card slots, we will require a more complete model and its price will be higher than that of other alternatives.
As the USB-C ports have enough capacity to provide power to the peripherals that we connect, we do not have to worry about having an extra power outlet. However, if the hub requires more than one USB-C port, we must make sure that our equipment has the necessary ones (this goes especially to the 12" MacBook).
Passive, Active, or Smart Hub - What should you pay attention to?
The technological advancements in the manufacture of electronic devices have generated increasingly minimalist and compact products. In this sense, the trend in the production of computers with increasingly reduced connection ports is increasing.
Having a multi-connector hub for the simultaneous use of devices is of great help, however, what not many know are the functions they have depending on their type, and can be classified into three types: Passive Hub, Active Hub, and Smart Hub. Next, we show you more details of each one:
Passive Hub. This type of hub only serves as a physical connection point. It does not have the ability to manipulate or visualize the traffic that circulates between connected devices, in addition, it does not amplify or clean the signal and does not require electrical power.
Active Hub. Active hubs must be connected to an outlet as it requires power to amplify the incoming signal before passing it to the other ports of the connected devices. They generally include 4,8,16 and 24 ports, providing LED lights to indicate their operation.
Smart Hub. Also known as "smart hubs" they function like active hubs, but they also include a microprocessor chip and diagnostic capabilities. They are more expensive than active hubs, but they are very useful in diagnosing network faults and isolating them.
The trend to thin all electronic devices is causing the disappearance of most ports and connections. Finding computers with a CD/DVD drive is no longer as easy as it was a few years ago, and the same is happening with traditional USB-A ports, especially on laptops.
One of the manufacturers that are betting the most on this "minimalism" is Apple. In their latest laptops, it is no longer possible to find the typical USB ports, being replaced by Thunderbolt 3 (USB-C). Although the latter has many more advantages than the others, luckily or unfortunately there are still not many peripherals with this type of connector.
To add all the ports, we may need we rely on adapters and USB-C hubs. This is not only limited to Apple MacBooks, but other equipment such as iMac and Mac mini, although they still have a large part of the connectors, we can also expand them by having Thunderbolt 3 connections.
That's it for this guide on how to find the perfect USB-C HDMI hub? Also, it is important to note that, there are several other accessories are available in the market to choose from to protect your laptop and MacBook such as a MacBook air leather sleeve.
Also, there are many brands, models, and prices when we talk about USB C HDMI hubs, each of them offers different amounts and types of connection ports, however, the quality of the hub you want to purchase will depend on the product you choose.
---