Description
Product: LENTION T2 ANC True Wireless Earbuds Touch Control with Wireless Charging Case Excellent Noise Cancellation Bluetooth 5.0 Headphones (TWS-T2-ANC)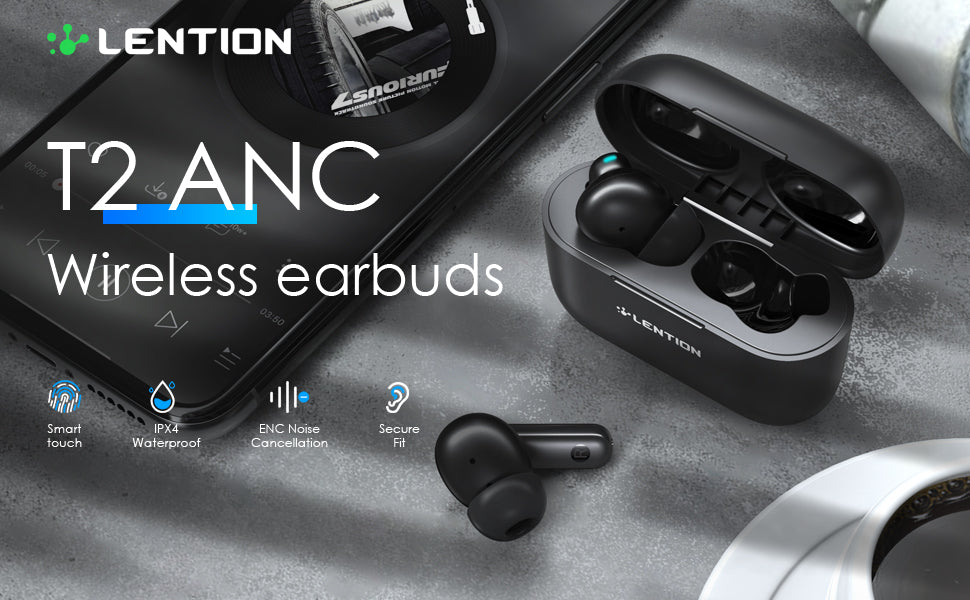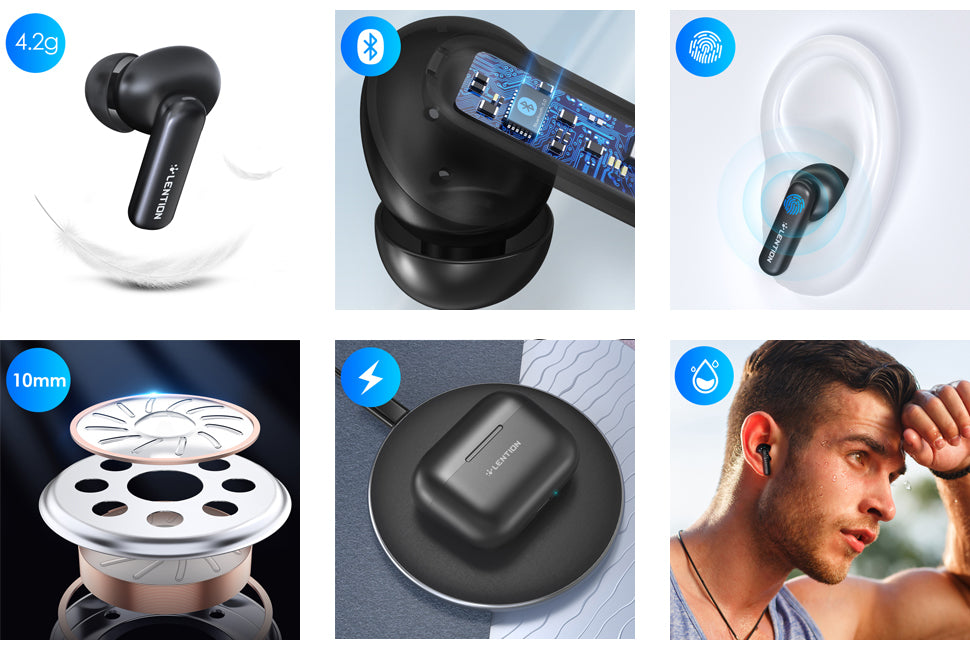 Key Features
Hybrid ANC Noise Reduction with Environmental Noise Cancellation: Internally installed both Feed forward and Feedback microphones with ENC arithmetic provide outstanding noise reduction, which can effectively suppress 90% of the reverse environmental noise, Reducing the environmental noise up to more than 35dB.
Immersive Premium Sound with Unique SiP Encapsulation: Made of PEEK+PU Japanese Imported superfine biology fiber with 10 mm low distortion & high frequency drive unit, providing both premium soft alto & surging bass. Also T2 Hybrid ANC is 

programmed by s

enior acoustics engineer and approved by Grammy Awards master. Its premium sound will gives you a sense of hearing a live.
Ultra-long Battery Life with Wireless Charging: Battery died? Plug in the box to get 3h extra use with 10mins charge for single earbud. After fully charged with wireless charger, it can provide 20h duration about 2 days use.
Three mode support: Switch freely among Left Mono Mode, Right Mono Mode, Twin Stereo Mode. Once pairing with your device, whichever earbud you pick can be use individually.
Strong Sense of Refinement: ROSH Made Body and Metal made hinge with elaborate adjustment provide excellent open feeling: Comfortable opening by your hands, and won't accidentally opened in your bag or pocket. providing up to 100,000 Times Opening Lifespan
Bluetooth 5.0:10meters long distance with 2X transmission speed
IPX4 waterproof: Sweat and Water Resistant makes you exercise without worry.
Touch Control Design and Wear Without Feeling: Touch to wake Siri and only 4.2g for single earbud.
Why choose Lention Hybrid ANC Ture Wireless Earbuds?
1. The rare $ 80 price segment includes an active noise reduction true choice.
2. Use a stable Bluetooth solution (Realtek), followed by adjustments by professional large-scale acoustic laboratory.
3. Equipped with wireless charging and other functions for benchmarking with AirPods Pro;
4. Equipped with dual-fire (also known as master-slave switching) function, allowing users to use left and right ears separately. Wear it alone and still use it.
5. Long battery life, can support 24 hours of uninterrupted use, to meet all-day needs.
6. Stability that can be promised and continuous software updates by professional suppliers.
Instructions:
Event

Operation

Voice Prompt

LED signal light

Power on

Open the earbuds case; Or long touch any earbud for 3 second to wake when earbuds are in sleep mode.

"Power on"

Blue light on for 1s

Power off

Put earbuds in the case and they will be turn off immediately;

Also, the earbuds will automatically enter sleep mode after being out of connection range for 5 minutes.

"Power off"

Red light on for 1s

Pairing

Open the case and the earbuds are ready for pairing.

"Pairing"

Blue light fast flashing every 0.3s

Connected

--

"Connected"

Blue light on for 2s then off

Active noise cancellation

 

Long touch left/ right earbud for 2 seconds

ANC active:1 sound "du"

ANC close:2 sound "dong dong"

--

Play

Single click left/ right earbud

--

--

Pause

Single click left/ right earbud

--

--

Next


Double click right earbud

--

--

Previous

Double click left earbud

--

--

Low power

Prompt sound will warn you 15-20 minutes before the battery running out

"Battery Low"

--

Charging

--

--

Red light keep on

Full Charging

 

 

Red light off

Answer the call

Single click left/ right earbud

--

--

Hang up the call

Long touch left/ right earbud for 2 seconds

--

--

Reject the call

Long touch left/ right earbud for 2 seconds

--

--
 

 

 

 

 

 

 

 

 

 

 

 

Color Selection

Grey space

Black

Space gray, silver

Space gray, silver

Space gray, silver

Space gray, silver, rose gold

Power pass-through

USB C, (100W)

——

USB C, (100W)

USB C, (100W)

USB C, (60W)

USB C, (60W)

HDMI port

Up to 4K/30Hz

Up to 4K/60Hz

Up to 4K/30Hz

Up to 4K/30Hz

Up to 4K/30Hz

Up to 4K/30Hz

VGA port

Up to 1080P/60Hz

——

Up to 1080P/60Hz

——

——

——

DisplayPort port

Up to 4K/30Hz

Up to 5K/60Hz

-

-

-

-

Ethernet Port

1000Mbps

1000Mbps

1000Mbps

1000Mbps

-

-

Card Slots

SD & Micro SD

-

SD & Micro SD

-

SD& Micro SD

-

Audio Ports

Mic & Audio

Mic & Audio

Mic & Audio

Mic & Audio

Mic & Audio

-

USB Ports

USB 3.0 x2 & USB 2.0 x1

 

USB 3.0 x6

USB 3.0 x3

USB 3.0 x3 & USB 2.0 x2

 

USB 3.0 x2

USB 3.0 x4

Charging Cable

-

Yes

Yes

Yes

-

-
More nice reviews:
Compatible Devices

Standard

18 Months Quality Warranty

Shipping Time

Return & Replacement Policy